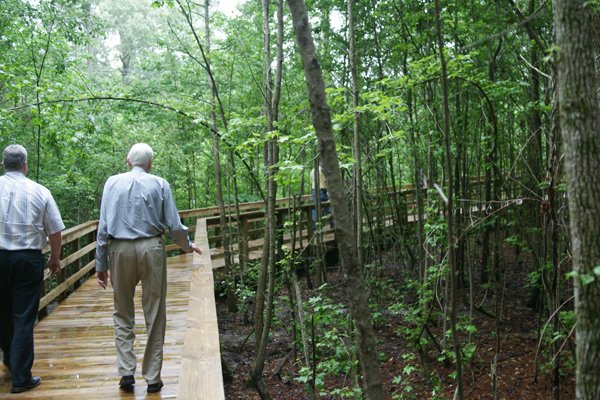 The museum completed in November 2008 a 700 foot by 6 foot handicapped accessible boardwalk that follows a horseshoe design through three wooded acres which were donated to the museum by Mary Ann Shackleford McCool. Ms. McCool, who had requested that the property be used for nature and environmental purposes, saw her desire fulfilled with the development of the boardwalk. In appreciation for the donation of the land the museum Board of Commissioners named the wooded area "The Shackleford Woods."
The Arkansas Forestry Commission laid out the trail, cut the trees to make room for the walkway and identified the various species of trees along the trail. In constructing the trail, they were careful to protect the overhanging trees to maintain the cathedral-like canopy as visitors walk the trail. Among the trees visitors will find are pine, oak, sweet gum, red maple, magnolia, black gum, dogwoods, redbuds and American holly. Through a grant from the Department of Arkansas Heritage, animal feeders and additional trees native to Arkansas have been located along the trail. Each end of the boardwalk is connected to handicapped accessible concrete sidewalks that join the Heritage Square.
The Shackleford Woods include a pavilion at the beginning of the boardwalk to be utilized by our visitors on the trail for picnics and small group gatherings.
Come and enjoy a leisurely stroll on the Shackleford Woods Boardwalk!